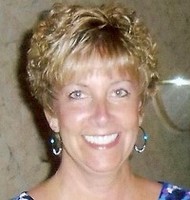 Our dear friend Polly passed away on 07/31/13 after a long and very courageous battle with cancer. She had to be one of the strongest people on the planet, but now she is an angel in Heaven. Our heartfelt thoughts and prayers go out to the entire Caylor family, as well as our friend, Doug Farbo and their son Derek. Polly will be greatly missed, but never forgotten.
(Obituary information from the Punxsutawney Spirit - Online)
August 1, 2013
Polly J. Farbo, 46, Punxsutawney, died surrounded by her family and friends after a lengthy battle with cancer on Wednesday, July 31, 2013.
She was born on April 2, 1967, in Punxsutawney, a daughter of Harry E. and Shirley O. (Shumaker) Caylor.
On Sept. 22, 1990, she married Douglas A. Farbo, who survives.
She was a member of the First Church of God of Punxsutawney.
She was a graduate of the Punxsutawney Area High School Class of 1985.
She worked as an insurance agent for the Shields Insurance Agency in Punxsutawney.
She loved scrapbooking, shopping, the beach, camping and spending time with family and friends.
She was an inspiration to everybody.
In addition to her husband and parents, she is survived by a son, Derek A. Farbo; a brother, Dennis Caylor and wife Sharon; a sister, Sue Gleason and husband Lou; a brother, James Caylor and wife Karen; a sister, Lisa Fye and husband Pete; and several nieces and nephews.
Friends will be received from 2 to 4 and 7 to 9 p.m. today, and also from 11 a.m. to 1 p.m., Saturday, Aug. 3, 2013, at the Deeley Funeral Home, Punxsutawney.
A funeral service will be held at 1:30 p.m. Saturday, Aug. 3, 2013, at the Punxsutawney First Church of God with Pastor Greg Smith officiating.
Interment will be in Calvary Cemetery, Punxsutawney.
Memorial contributions, in memory of Polly, may be made to the First Church of God of Punxsutawney or to the donor's choice.
Online condolences may be made at www.deeleyfuneralhome.com.